When was the last time you hit the wall behind your head? With an Aneros prostate massager this could be a daily occurrence. Available in a range of shapes and sizes the Aneros range of prostate massagers are angled perfectly to gently massage your prostate for massive eruptions.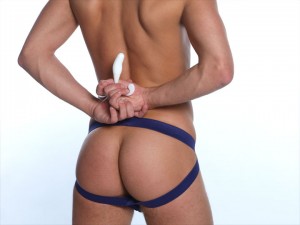 Don't know what your perineum is or where to find it? Let me introduce you to this superb pleasure point. The perineum is also referred to as your taint and is that super sensitive skin located between your nut sack and your pucker. Applying the right amount of pressure while probing your prostate from the inside and masturbating can lead to amazing all over orgasms!
Ergonomically designed for male prostate stimulation this range of anal toys will massage your prostate and perineum at the same time, making this toy incredibly effective!
Simply lube it up with the recommended lube and slip it into position, you'll be amazed at just how quickly how quickly your penis responds to a little pressure on the prostate. Then try contracting your sphincter muscles, holding it in and then letting. Repeating this action for sometime while masturbating will lead to a satisfying squirt 😉
p.s just make sure you're wearing goggles.
You can view the full range of Aneros prostate massagers available at esmale.
Team esmale
Essentially for men