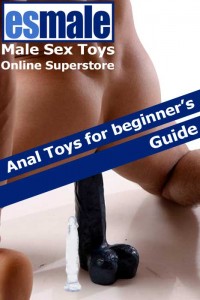 Your bum is the entrance to a world of new exciting pleasures and sensations! The prospect of anal sex can seem scary at first, but at esmale we have a great selection of beginner's anal toys designed to make your first time a pleasurable and satisfying experience.
Today's blog is all about anal toys for beginners, below we have picked a few of our favourites. But don't just take our word for it go online and check out the great range of small anal dildos, slim butt plugs and tapered anal beads,
This small anal dildo is the perfect size for beginners and those looking to explore the pleasures of anal sex.
Colt Anal Trainer Kit
Work your way up to the real thing with this set of 3 firm pliable tapered butt plugs. This set includes three different size butt plugs designed to help you prepare for anal toys.
Perverssimo Anal Vibrator
This silicone anal vibrator features a textured shaft that measures 5.5 inches in insertable length. It's super smooth and silent but boasts a powerful multispeed vibe. This toy is great for guys looking to add a buzz to your bum.
Silver Metal Anal Balls
Slip these silver metal anal balls inside your anus to stimulate your prostate and to escalate pleasure during masturbation or foreplay.
Pjur Backdoor Relaxing Anal Spray – (20ml)
What ever you do don't forget your lube. Pjur back door relaxing anal spray is an exceptional anal lube spray designed for men. This lube works by desensitizing the anal sphincter to increase pleasure during anal sex.
Maximus Anal Lubricant – (250ml)
Maximus Anal Lubricant is a thick clear water based lube that's essential when playing with anal toys. Its high glycol content helps retain any naturally occurring moisture and makes the lubricant last longer too.
View the full range of anal toys available at esmale.
Team esmale