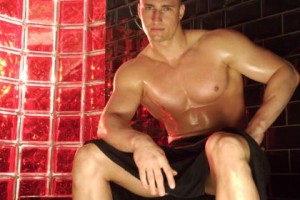 Working in the adult industry and being around gay toys all the time, I have seen and experienced most things. Last night I learned something new, OMG!
For the very first time I have cum without touching myself, it was amazing. I hooked up with a couple of guys in the sweatbox sauna in London, If you have haven't been there, GO! It is such fun, if you are into sauna's!
Anyway I was unashamedly cruising for action and these 2 guys, slightly to "hardcore looking" for me but doable, were giving me all the right signals. We went to a cubicle and got straight to it, these guys were like vampires that haven't had a feed for years, they were all over and in me before I knew it. BLISS.
It was so horny and intense, the perfect way to spend an evening. After 30 minutes of hard sweaty sex their gay toys bag came out and whilst one was seriously doing me the other guys was prodding me with some vibrating anal toys, at this point it was all to much and I spunked all over the place and in their faces!
As soon as they were on me they were also of me and I cleaned myself and floated home on a wave of lust and cum smells, what a way to start the week!
With love!
Email us and also share your real experiences!