Anal Beads is the perfect companion during foreplay with a partner of just on your own. With anal play and prostate play becoming more and more popular. Anal beads are specially designed enhance anal stimulation.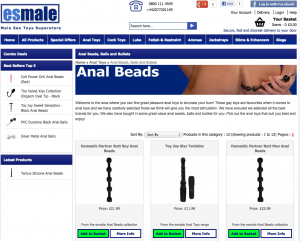 Anal toys are specially designed products for anal penetration. The shape of anal beads is often tapered and graduate in size. Applying lube to its slick exterior makes it super slippery for easy insertion. At the end of the balls you will often find a flared base or handle for security.
At esmale we stock a wide range of anal toys from small to huge! We have something for everyone. Anal beads are the perfect introduction to anal sex and anal toys. If this is your first time I recommend you start with small beads and work your way up to something bigger.
We recommend more anal beads for those looking to explore the pleasures of anal sex or prostate play. The Toy Joy Sweet Sensation Beads measure in at just 7 inches long and a great place to start if you're a beginner.
Anal beads feel fantastic when left in during intercourse or masturbation and can be pulled out during orgasm to intensify the sensations, but whatever you do – don't forget your lube and apply plenty (and a little bit more) to both your anus and your anal beads, and then gently push the first bead inside you. You can then 'pop' each bead in slowly until you've taken as much as you are comfortable with.
Check out the full range of anal beads available.
Team esmale
essentially male