I know I am late to the table with this one, but I love Steve Jones (ex X-Factor host) so the sight of him admiring his big gay dildo sent me into a fluster. According to some blogs this range of anal toys was molded directly from his penis? As much as I would love to believe this, I'm not buying it unless one of you lovely people has video evidence?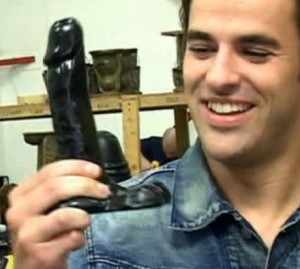 If like Steve, you want your dildo big and juicy, you've come to the right place!
At esmale – the online gay sex shop we stock a great range of anal toys specifically designed for anal sex, so lube it up using a rubber-friendly lubricant and this toy is ready to insert your anus.
We stock a range of anal toys that look and feel just like a real penis and some dildos are even molded directly from the hottest porn stars, including Kevin Warhol and Brent Corrigan.
The dildo is just one of the great gay toys available in our range of anal toys, with ultra realistic balls and veins that add to the overall texture and look. So take hold of their realistic balls for support while inserting the dildo, or you can prop it up on the floor by its base.
Apply plenty of lube and you will love the feel of the material as it slips inside inside your anus. The gay dildo features a tapered head designed for comfortable smooth and easy entry, while the textured the shaft stimulates the nerve endings in and around the anus.
Top Tip:
The extra smooth head is perfect for easing out your anal muscles for the rest of the shaft to glide through, so take advantage by squatting over the dildo and riding it like you would your man's penis.
Check out the full range of anal toys at esmale.
Team esmale
essentially male