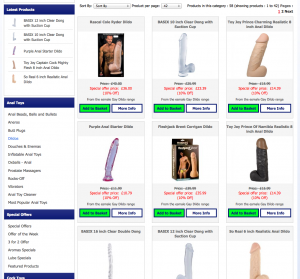 Our collection of dildos has just got bigger! From the realistic looking Prince Charming to the Prince of Namibia this new range is available in a whole host of exciting colours, shapes and sizes, but which ever dildo you choose they are all designed to fill you up and stimulate all the right spots.
Before investing in a gay dildo you need to first think about what you want to get out of it. If you are looking for p-spot stimulation we recommend one made from a firm material with a slight angle or curve.
Inflatable dildos are great for those who love that filled up feeling but find it difficult to insert big anal toys. Most inflatable dildos increase to more than double their size, simply insert the dildo into the anus in its flaccid state and gently use the hand pump to increase it in size.
Start small – end BIG! Think about length and girth? Whether the thought of a good stretching makes you grin or cringe at esmale you will find a range of different sized dildos for everyone. We sell small dildos for those just starting out and looking to explore the pleasures of anal sex and huge dildos for all those greedy bottoms out there!
Be warned! Some dildos really are massive like the Mighty Joe, a whopping 15 inches in length and 11.5 inches diameter.
Most anal dildos feature a pair of balls at the bottom of the dildo not only does this help stop your dildo from going anywhere it means you have total control of your dildo, it's great for those of you looking to thrust hard and penetrate the prostate. If you like the sound of that check out our range of realistic dildos molded directly from your favourite porn star. This range also features a suction cup that will hold itself to floor or wall so you can put your hands to better use.
Check out the full range of anal toys available at esmale.
Team esmale
essentially for men