Aneros are experts in the field of prostate massagers. In particular the boys at esmale like to refer to the Aneros MGX as the patented anal sphincter-driven, prostate-perineum massager. Basically it's an anal sex toy that hits the male G-spot (prostate) so guys can achieve strong, continuous, non-ejaculatory, full body orgasms!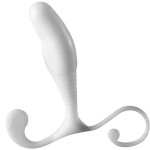 Believe it or not there is a university centre dedicated to medically researching and designing the best gay sex toys that are ergonomically designed to work in complete harmony with your bottom.
The Aneros Prostate massager is designed to stimulate both the prostate and the perineum in a rhythmic motion that builds up to unprecedented male orgasms. But don't just take our word for it; this is what one of our toy testers had to say about it.
I eagerly waited for my Aneros Prostate Massager to arrive, after reading rave reviews and hearing so many good things about it I couldn't wait to get started.
At first glance I was surprised to find that is it was made of hard plastic. I somehow thought it would be of a softer construction. Not letting that put me off I set to work…
The Aneros prostate massager is designed with a guy's anatomy in mind. It's unique shape is specifically designed to stimulate the male prostate. This area is extremely sensitive and stimulating this area can be an intense experience that increases the intensity of orgasm.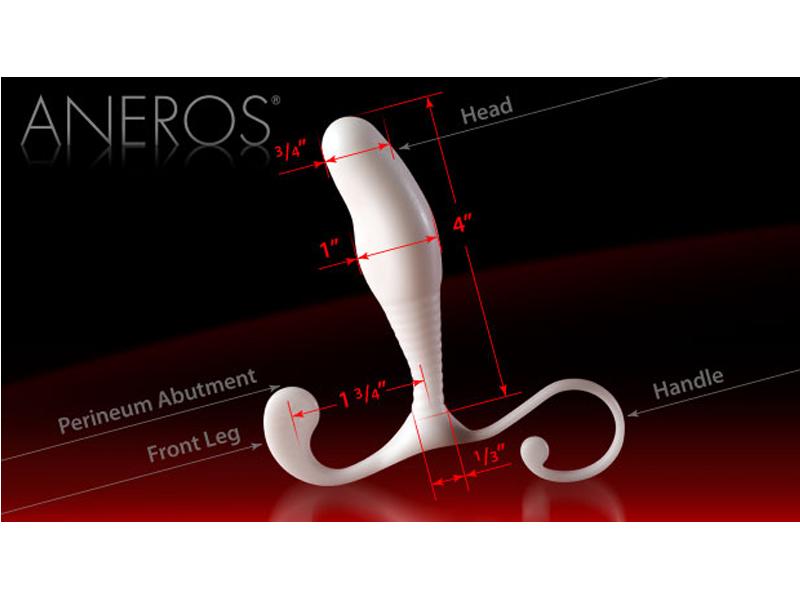 With that in mind, choosing the right size and shape of anal toys is critical in ensuring they deliver an enhanced experience because they have to be big enough and shaped correctly to apply pressure to the right spot, and not fall out of your backside in use. This has to be balanced against the fact that anal stimulation can be intense because of the density of nerve endings around the anus and the effect pressure has on the prostate – too big and the experience can be too intense.
The Aneros MGX measures 9cm in insertable length and 8 cm in circumference at its widest point. This prostate massager is one of the smaller size anal toys from the Aneros family.
It's important to remember that the Aneros prostate massagers ability stimulate comes from its unique shape and not its size.
I applied plenty of Pjur lube to my anus and the toy before pressing the tapered tip against my anus. When the toy was only two thirds inside me my muscles drew it in until it settled into place, its shape and the external arms kept it securely in place. The curvy arms, front and back serve to stimulate the perineum (in the case of the front arm), while the rear one means the toy doesn't rotate in the anus.
I lay for 15 minutes as instructed in the included manual until my body was fully relaxed and become accustomed to the unique sensation. I was aware that the muscles in my anus were moving the toy without any conscious involvement on my part, it felt great but the best was yet to come! Every now and again, a strong muscular wave rolled along my colon applying pressure to my prostate. I was soon gasping on the verge of orgasm.
What makes the Aneros truly unique is that it is a hands-free, self-propelled device. The Aneros converts the anal sphincter's natural motions and contractions directly into stimulation of the prostate and perineum, meaning that the user does not use it have to use it manually.
Aneros are designed with hands-free fun in mind, so when I was ready I rolled onto my back started to masturbate my hard cock. I was dribbling precum and felt my balls tightening. Very rarely do my own fluids lubricate me and this made me even harder.
As I approached orgasm I took my balls in my left hand and started stroking my cock furiously with the other. Result, Amazing orgasm and one hell of a cum shot!
I can't wait to use the Aneros MGX again and absolutely recommend it for amateurs and veterans' alike! The most fun I've had on my own in ages.
Score 5/5
Get your Aneros prostate massager at esmale here.
Team esmale
Essentially for men