A lot of guys are afraid or apprehensive to explore the pleasures of anal sex due to hygiene. These concerns get in the way of the enjoyment guys can experience with anal toys.
Take gay porn stars for instance – they're always impeccably clean. We never see the extensive preparation involved (and that includes using an anal douche)!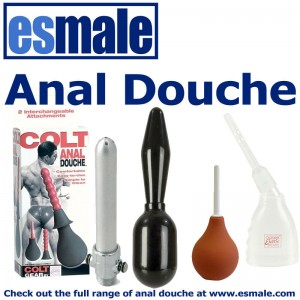 The process of cleaning the rectum is called anal douching. The tools used to clean the rectum are most commonly referred to as an anal douche or enema. The process doesn't take very long complete but many guys cringe at the idea of flushing out their bum. What is there to be embarrassed about after all the cleaning you do is in private. It's an essential item before playing with male sex toys that stick up your bum.
The process can take some practice if you haven't done it before, but will be worth it. To start with take the bulb and fill it with lukewarm water (check the temperature by squirting some on your wrist first). Apply lube to the tip and your anus before inserting.
When you feel comfortable squeeze the bulb and expel the water into your rectum and empty the water in the toilet.
Top tip: Most anal douche devices don't have a one-way valve so do not release the bulb until after you have removed the douche from your anus.
Repeat the process several times until the water runs clear. When you're done clean the bulb and nozzle thoroughly using a gay sex toy cleaner. Then you're done!
Some guys like the sensation of water passing through their rectum. For you we recommend the shower anal douche (also referred to as a shower shot). This is a great alternative for guys who may want more frequent or deeper cleaning. The shower douche is essentially a valve, hose and tip that is easily installed into your plumbing just before the shower head.
It's important to be able to carefully control the temperature and pressure of the water. You don't want full water pressure shooting into your rectum!
Most importantly using an anal douche shouldn't hurt! Remember to take things slow and gentle. Use plenty of lube. If it hurts, slow down or stop! Allow plenty of time for your body to adjust after douching before beginning anal play. If you have to go after cleaning out, just do another rinse and repeat!
For hygienic reasons, never share your anal douche or cleaning devices. Sharing anything that's inserted not only could transmit HIV, but also hepatitis and a whole lot more.
Check out the full anal douche range at esmale.
Team esmale
essentially male