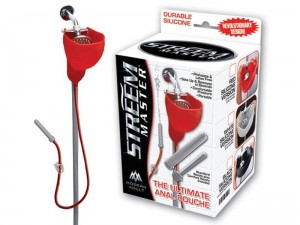 The guys at StreemMaster are famous for their award winning anal toys. This great range of anal douche /enema systems are available at esmale after more than a decade of research and development we the StreemMaster boys have created a simple, safe, fast and more convenient anal douche.
And best of all, the exceptional convenience and portability make the StreemMaster douche/enema the ideal choice, wherever you may be! It folds away into a handy small compact bag that is discreet and small enough to carry on naughty weekends away.
The StreemMaster makes douching easy and fun!
Uses shower to create a continuous stream of water – no need to refill.
Completely portable – connects and disconnects easily in seconds with no tools required.
Innovative drain overflow system prevents bag from overfilling
Converts household pressure to a safe, yet effective water pressure.
Folds to a discreet size for easy storage and portability.
Ideal for home, hotels, – anywhere there is a regular shower.
Reusable silicone funnel bag for long life and sanitary operation.
Includes industry standard screw-on nozzles – buy additional nozzles for you partner.
How to use the StreemMaster Douche

Why do I need to Douche?
The thought of using an anal douche or enema kit can make some people feel a little nauseous, but they are incredibly useful tools for fans of anal toys and anal sex. The douche works by flushing water through the anus, leaving it clean the process can be pleasurable.
Both douches and enemas come in different sizes and shapes to suit all levels of experience and are incredibly simple to use, even if it's your first time.
They work by cleansing the anus before penetration, ensuring that it's as clean and hygienic as possible. This ensures that playing with your favourite anal toy won't be messy.
esmale top tips
Use your anal douche approximately 60 minutes before anal play for the best cleanliness.
Don't forget your lube, applying a waterbased lubricant to the nozzle to ensure entry is comfortable.
Remember using douche can remove the natural lubrication inside the anus so it is important to use anal lubricant before attempting any further insertion.
Click here to view the full range of anal douche and enema kits available at esmale.
Team esmale
essentially for men