Lucky me, I spent the last night in bed with gay porn star Johnny Hazzard! (Well, the Johnny Hazzard realistic gay dildo). Anyone who has been lucky enough to see this sexy guy in action will know how hard it is to resist shooting your load before too long!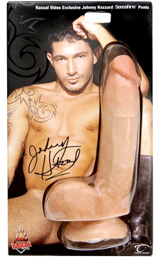 Unwrapping, his gay dildo made me feel like I had created my own gay Porno Hall of Fame. This gay dildo is molded directly from Rascal Video exclusive model Johnny Hazzard.
The Johnny Hazzard Realistic Dildo has an insertable length of 6.5 inches, but the suction cup base and balls (which make a great makeshift handle for great thrusting) gives him an overall length of 8.5. He is completely submersible and harness compatible (his O-Ring diameter is 1.5 inches), and this bad boy contains no latex – this dildo is going to be perfectly safe for whatever you were wanting to do with him.
The circumference on this model is a 5.75, which makes him great for guys looking to explore the limits of anal sex who need a lot more girth. Whatever you do don't go in 'unprepared' Johnny is a big boy so make sure you stock up on a water based lube such as Liquid Silk or Maximus Anal Lubricant. Apply plenty of lube to your anus and your Johnny Hazzard gay dildo for optimum slide.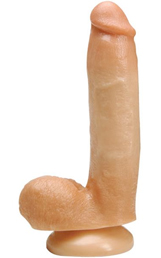 The Johnny Hazzard realistic gay dildo is made from Sensafirm and hand painted to look and feel just like the real thing. I promise you won't be disappointed. As the picture suggests, the size, from the standpoint of both length and girth, is fantastic, and so is the shape.
Like I said earlier this gay dildo is definitely above average (it's big, but not too big). It's firm but pliable and feels as though it penetrates more than some dildos that boast greater dimensions. My favourite thing about this great toy is mushroom shaped head that feels wonderfully smooth and tapered for easier entry.
The Johnny Hazzard Realistic Dildo is currently on sale at esmale, so there is no better time to try out a first date with this handsome fellow.
Get yours today, I guarantee you wont regret it … and it's on offer for a limited time only.
Check out the full range of gay dildos at esmale.
Team esmale, essentially for men!