The Oxballs Sack-sling sounds intimidating, doesn't it? But this is one of bondage's best kept secrets that can prevent premature ejaculation and add a little bit of kink to your sex life!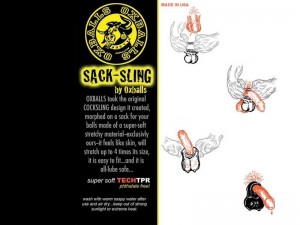 The 'sack-sling' is different from a cock strap and cock ring it specifically works on the testicles and cock as one!
Did you know that as orgasm approaches your testicles naturally rise (this is normal). Wearing the sack sling around the scrotum stops the testicles rising and therefore delaying ejaculation until you're ready, whilst restricting blood flow away from your erection giving you a much stronger erection.
Modelled on the best selling cocksling the Sacksling from Oxballs keeps you harder for longer and the appearance of bigger, sweatier balls. Not just for sex, wear the Sacksling under your gear for a hot buldge. Show off your package to it's fullest, your partner will appreciate the feeling of your big balls hitting the back of his ass.
The sack sling features an internal ring that keeps your balls from slipping back in. Apply a generous amount of lube to the inside of the sack and drop your testicles inside put your meat through the front hole, and stretch the sack over your testicles.
View the full range of Oxballs toys available at esmale.
Team esmale
Essentially for men