I'm not new to anal play but was looking for an entirely new anal sensation! I invested in the silver metal anal balls. Away on business a lot I wanted to treat myself to something small and discreet enough to fit in my overnight bag.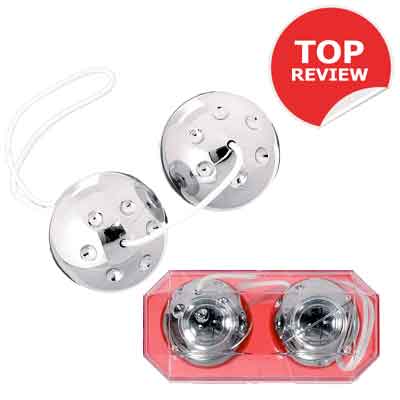 Shiny, smooth and spherical, these anal balls are easy to insert and unintimidating, apply a generous amount of water based lube and pop these balls up your bum.
Attached to the two balls is a long chord that sits discreetly out side of your anus and can be used to remove the balls quickly if necessary.
What I loved most about these balls is that each one contains a weight that provides an unusual and appealing feeling which can turn a regular orgasm into an earth-shattering experience. As you wriggle and move the weights inside the balls provide a filled up feeling and satisfying pull.
Try wearing them over a long period of time and pull the balls out at the point of orgasm to really heat things up!
I really recommend investing in this set of metal balls. Great for beginners and connoisseurs' alike you'll enjoy the extra flexibility and weight that stimulates all the sensitive areas inside the anus!
Advanced anal enthusiasts might prefer anal beads, which are much heavier, producing a pleasing pull on your body. The Silver Balls Anal Beads are ideal for this!
See the full range of anal beads available at esmale.
Team esmale
Essentially for men