Ball stretching (AKA Scrotal Stretching) is the permanent or temporary stretching of the scrotum. More commonly performed in the gay fetish community and just in case you were wondering the results of ball stretching is often semi-permanent, meaning the scrotum can end up returning to its original length unless ball stretching occurs frequently over a long period of time.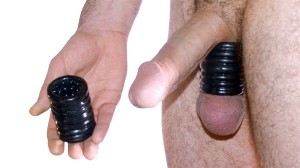 Take a look at the full range of ball stretchers available at esmale. This great range of toys will enhance stimulation and pleasure during BDSM play and exploration. Believe it or not but a ball stretcher offers some of the same benefits as wearing a cock ring, keeping you harder for longer.
Ball Stretchers come in a range of shapes, sizes and materials but ultimately prolonging ejaculation so you can go longer in the sack. Obviously we ask you to act with caution especially if this is your first time scrotal stretching. Remember damage can be caused when circulation is cut off from the area. An easy way to measure this is to check the temperature of your scrotum; if it feels colder than normal this is a sign that the circulation is restricted. This is your body telling you that there is problems so do not ignore it!
Top brand Oxballs have a range of ball stretchers made from firm but stretchy silicone. If you're new to ball stretching but still want a firm grip, we recommend you start with the Oxballs range of ball stretchers. Made from super stretchy material you can find tightness to that is comfortable for you. Oxballs ball stretchers will make you feel bigger and harder, whilst helping to build up his stamina too.
It's important to note that all methods of stretching need to be done gradually over time. It may be months before you start to see results.
View the full range of ball stretchers available at esmale.com
Team esmale
essentially for men