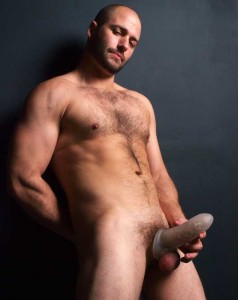 A penis extender aka cock sheaths is great for people who suffer from impotence or just want a bigger, harder erection without consuming pills and potions. This new range of male sex toys come in a variety of shapes and sizes and add up to nearly five extra inches to your manhood.
Cock sheaths are great for hungry bottoms but leave the top wearing the sheath begging for more sensation. Those naughty boys over at Fat Boy have created a big fat cock sheath that is filled with soft nodules that rub and stimulate the shaft of your penis to increase sexual pleasure for you and your partner.
Top Tip:
When you're not using it with your partner this great toy doubles up as a masturbator or why not put it on your anal dildo, you could even turn it inside out if you'd prefer the texture on the outside of the sleeve.
Simply apply a dollop of lube to the inside of the sheath and to your penis and enjoy the feeling as the sheath works your shaft massaging the full length of your penis. The fat boy measures 7 inches deep with a diameter of 1 inch; this super sleeve stretches 1200% so it fits guys sporting an above average penis.
This cock sheath features a hole to fit your balls for extra support! You and your partner can then enjoy a whole six-inch circumference and an extra fat girth.
Shop the full range of cock sheaths at esmale.com
Team esmale
essentially for men