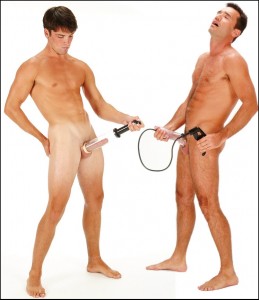 Do you want a dong to rival even the biggest porn star? A penis pump will help you maintain a bigger, stronger erection to give you the trophy cock you've always wanted.
Using a penis pump can give can give you a stronger, bigger cock for satisfying sex or can be used to take masturbation to a whole new level. It is more than likely you have seen them advertised in the back of gay men's lifestyle mags, but believe it or not but penis pumps are your ticket to getting a bigger cock that can maintain a strong, prolonged erection regardless of whether you use it to build yourself up for sex or for solo play.
How does a penis pump work?
A penis pump usually consists of an airtight cylinder that you place over the shaft of your erect penis – excluding your balls (unless your pump is specifically designed for your scrotum as well) to create a vacuum/suction that increases blood flow into the muscles that in turn gives you a bigger penis and more firm erection.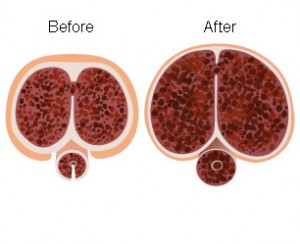 Watch as you grow and grow and GROW…
The muscle tissue expands to accommodate the influx of blood, which means a huge hard-on, squeezing the hand pump increases the pressure inside the cylinder. Using the pump you can control the frequency of pumps and pressure applied to your penis.
Is it dangerous?
This debate is age old, and whether long-term use can cause damage, but, like most things, if you want a more substantial erection that lasts longer than just one pumping session, you have to work at it over time. After using a pump, most men claimed to see and feel an increase in the girth of their penis more so than the length. The muscle tissue in your penis will respond to regular pumping, so how big and strong your erections become depends on how much time you have to spare.
Penis pumps are safe to use, but you must read the instructions and if this is your first time we recommend pumping for short length of times and don't apply too much pressure to your penis. Pumping too vigorously and applying too much pressure too soon could result in, a temporarily discoloured penis, burst blood vessels or genital blisters.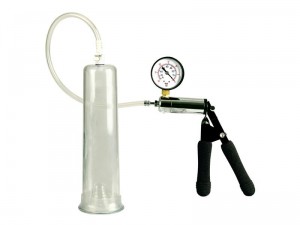 Though it is very rare for these kinds of side-effects to occur during short-term use, but take care when using penis pumps for a prolonged period of time. To be on the safe side, you may want to invest in a high-end penis pump with a built-in pressure gauge, such as the Colt Deluxe Vacuum Penis Pump System. This penis pump is slightly more expensive but lets face it this is one area where you don't want to cut costs!
A penis pump for everyone
If you're on a budget but want a bigger dick, the Toy Joy Power Penis Pump is ideal for providing an extra inch or two by welcoming your penis in its extra-tight seal, which also makes it an attractive option for masturbation.
Create a blow-job effect? Just add lube
The airtight vacuum cylinder can provide a thrilling deep throat, blow-job effect for men who are looking for a 'sucking' sensation. Simply apply lube to the base of your penis and around the base of the penis pump will create a tighter for added stimulation that will bring you to orgasm. We recommend using a water based lube such as Swiss Navy water based lube, ID Glide or liquid silk. You can also use a penis pump to enlarge your nipples, just take care when applying pressure.
Get your penis pump at esmale here today!
Team esmale
essentially for men