Guess what! Penis pumps – do actually work. For those of you looking to improve the length and girth of your penis we recommend investing in a penis pump.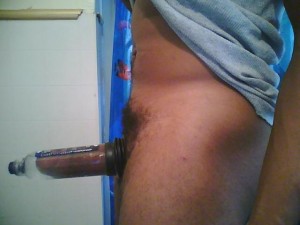 You have probably seen penis pumps advertised in the back of sleazy porn mag, but penis pumps are a surefire to get a longer, stronger, fatter erection regardless of whether you use it to build yourself up for anal sex or masturbation.
Penis pumps work by creating a suction that safely engorges the penis, it feels so good that some guys claim it's better than a blowjob. Penis pumping regularly and you'll soon notice a long lasting increase to the size of your penis.
Top tip: if you're looking for instant results, wearing a cock ring over the base of the penis before pumping and your shaft will maintain its extra length and girth after removing it from the cylinder.
Your penis is your pride and joy so do some research and find a penis pump that works best for you. The guys at esmale.com have searched the globe looking for the best pumps designed to give you the best results. You'll find vibrating pumps, manual pumps and pressure gauges we have something for everyone.
If you're on a tight budget take a look at the Toy Joy Power Penis Pump. This pump is great for providing an extra inch or two by accommodating your penis in its extra-tight seal. It also features a clear transparent cylinder that is great for masturbation.
If you're serious about pumping and plan to be working out on a daily basis, check out the new Bathmate Hercules 3.0 Hydrotherapy Penis Pump. This premium penis pump is a cut above the rest. With its 14-inch cylinder this pump will give you what you're looking for.
Check out the fantastic penis pump available at esmale.
Team esmale
Essentially for men