At esmale we have a great range of cock rings and our vibrating cock rings are second to none. Simply flick the switch and the super powerful bullet will send orgasmic vibrations down the length of your erection, stimulating the sensitive tip of your penis.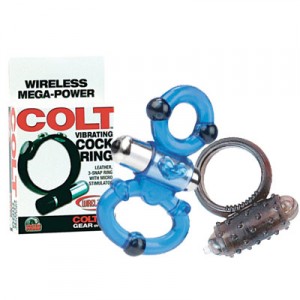 Vibrating cock rings can be used during sex or simply to take masturbation to another level! So, whether you're looking for something that's going help you last longer in bed or give your orgasm extra oomph! a vibrating cock ring is the answer.
Vibrating cock rings tease and tickle the sensitive nerve endings at the base of your erection, sensations travel all the way up your testicles and anus.
A silicone vibrating cock ring that is super stretchy and one size will fit most!
How do I put on a vibrating cock ring?
Make sure you are fully erect before attempting to put on your vibrating cock ring.
Applying some lube to the inside of the cock ring can make it easier to slide over your penis.
Next, position the bullet at the base of your penis and adjust it so the stimulators sit exactly where you want them.
Your cock ring may have a second ring (that is slightly larger in size) this is designed to fit around your testicles. Just stretch and adjust the larger ring and gently push your testicles through.
How does a cock ring make my penis bigger?
Once the cock ring is comfortably in place, it works by restrict the amount of blood flow moving in and out of your penis, ultimately giving you a bigger, harder erection.
How strong is the vibration?
Each vibrating cock ring is different; some vibrating cock rings include a single-speed vibration while others offer multiple functions including a remote control so you can control the speed.
What would you recommend?
If this is your first time wearing a cock ring or just want to test the water with a vibrating cock ring we recommend the Screaming O Vibrating Cock Ring. This fun and disposable vibrating cock ring is guaranteed to add that little extra buzz to your fun. The ring and cover of this vibrating cock ring is made from a soft silicone material that feels like jelly.
If you want more bang for your buck than I recommend you invest in the Colt Vibrating Cock Ring. The leather, 3 studded snap cock ring will fit most guys and the addition of the vibrating bullet will take your cock rings stimulation to a new level.
If you're looking for something abit stronger give the X-Factor Vibrating cock & balls rings a go!
The X-Factor Vibrating Cock & Balls Rings features two rings, place one of the strong; soft flexible cock rings over your penis, and the other cock ring around your testicles and turn on the vibrator. The X Factor vibrating bullet sits snugly under the base of the penis for unbelievable sensations that moves up to your taint.
View the full range of vibrating cock rings at esmale.
Team esmale
essentially male