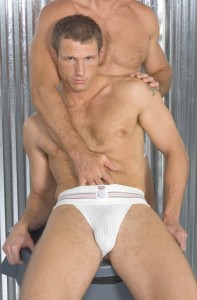 Sex sells! And the jockstrap is living proof! This clever little bugger was invented way back in 1874. Originally designed to protect bicycle jockeys while riding cobblestone streets (a little unknown fact for you).
It has since found a home on the locker room floor and gym bags as it has become an essential tool with numerous sports and medical applications, anyone familiar with wearing a jockstrap knows that compared to other men's underwear the jockstrap offers unrivalled support, that offers a fabric pouch designed to keep your crown jewels safely contained.
But today the jockstrap still has a home with these applications but has expanded to include fashion, style, fetish and gay lifestyle. We're interested in fashion, style, and what works for you. At esmale we believe that your jockstrap doesn't have to be the boring, for exactly this reason we have searched the globe looking for the sexiest, fashion-conscious jockstraps. While some of these jockstraps could be used as athletic jockstraps in sports that don't require a protective cup, all of them are designed as fashion jockstraps.
The traditional bike jockstrap design features a three-inch waistband, open rear, and supportive pouch. This design has been faithfully preserved with the exception of one rather adventurous design appropriately titled the performance elite. Bike has combined good-looking design, extreme support with a comfortable feel. There is not much else you need in a jockstrap, but just in case you do, Bike has made this jockstrap from moisture wicking fabric. This means that the moisture is absorbed and you can drain it, as you would do a wick. The material and physical design of the Bike jockstrap has been carefully integrated in a modern style.
We believe that every guy can look good in a jock strap and the guys at Fist have launched with a jock strap range that is guaranteed to do just that.
The Fist jockstrap is made from cotton and provides comfort and absorbency the use of polyamide adds durability and strength. And finally, spandex is used for its superb elasticity and ability to stretch without distorting the fabric.
The boys at Barcode carefully select and creatively craft each jockstrap. Their range of jockstrap designs are available in a range of styles and offer intriguing colors and textures. Others integrate creative design elements, such as lace. Barcode jockstrap is sexy and all our styles are adventurous and unique.
The jockstrap has come a long way over the last 135 years and here at esmale we're proud to offer you the sexiest designs available today! See the full range of jockstraps available at esmale here.
Team esmale
essentially for men