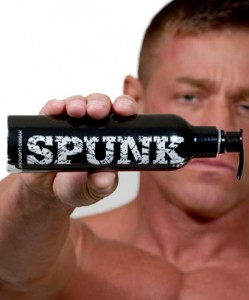 Drum roll please! We are proud to announce that since SPUNK lube hit the shelves at esmale it has shot through the ranks to quickly become a best seller. So what makes this lube stand out from the rest? The answer is simple! It looks just like real cum (hence the name). Plus, this lube is waterbased, condom compatible and safe to use with all your sex toys.
The idea was born from the award winning Str8cam lube, his name is Jeff and he is super hot. You only have to Google this guys name to find 1000's of pics of this guy getting himself off with Spunk.
This cum lube is creamy in texture and white in appearance, super silky smooth, long lasting and cleans up easily. Available in a 8oz/256ml, a little goes along way so there's plenty of SPUNK to keep you cumming!
Top tip: Yes, it looks like cum, but it doesn't taste it- you have been warned (speaking from experience)!
In the name of esmale, I decided to give this lube a test drive with my Brent Corrigan Butt Fleshjack. I quickly applied a generous blob of lube to my penis and Brent's ass; the lube was long lasting and didn't need topping up unlike most other waterbased lubes.
Don't take my word for it try it yourself, get your cum lube here.
Team esmale
essentially for men