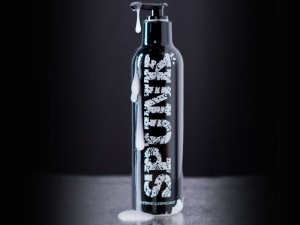 From the makers of the hugely popular Str8cam lube comes the all-new SPUNK lube. This fantastic new award-winning hybrid lube is a water-based but blended with the perfect amount of silicone, which means it super silky smooth, long lasting and cleans up easily.
SPUNK Lube is just what it says it is – it looks and feels like real spunk. It's creamy and white but doesn't get sticky or tacky. Safe to use with both toys and condoms, SPUNK lube is the perfect all-rounder. SPUNK Lube is a hybrid, part water based and part silicone lube, and it's condom friendly, safe to use with all your favourite gay sex toys, and it won't stain your sheets or ruin your gear.
In a super-sized 8oz/256ml, there's plenty of SPUNK to keep you cumming for a good while! This lube is the perfect companion to a film and a naughty wank…
Or why not the man in your life a special treat? Check out the latest lube from the makers of bestselling STR8 Cam, lead him upstairs to the bedroom and get him naked. Make sure your hands are warm apply plenty of Spunk lube to your hands and his cock.
Start teasing him by caressing his thighs and balls before reaching up inside his legs and touching his anus, cradle his balls before laying your fingers on his rock-hard erection.
Then apply a further generous dollop of SPUNK lube all over his shaft and balls. It will soon look and feel like he has cum everywhere – which is a major turn-on! With a firm grip bring your hand up his shaft then twist your wrist so that your palm twists at the top of his cock head. Repeat with the other hand and continue in a rhythmic motion until he squirms and starts breathing faster and more heavily.
Don't just take our word for it get your bottle of Spunk lube at esmale.
Team esmale
essentially for men