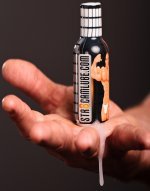 At esmale we know all to well the benefits of lube. A good sexual lubricant can enhance masturbation and anal sex and leave you wondering how you ever got by without it. From flavoured lube to silicone lube, masturbation cream and water based lubricant we have it all! You will find the perfect sexual enhancement lube for any occasion from the great range of lubes available at esmale.
You may be familiar with well-known lube brands such as Liquid Silk, Swiss Navy, ID Glide and Maximus, all of which are favourites with fans of slippery and pleasurable sex, and through exploring esmale's wide selection of lube products and brands, you'll be introduced to other new and exciting lubes such as STR8 cam lube and Maximus anal lubricant.
So if you've come this far in your sex life without using lube, why should you start now? Even if you feel that your body is doing a great job without any assistance, you might be missing out on reams of extra pleasure without knowing it.
STR8cam is the bestselling water based personal lubricant that was designed to look and feel like cum. Made by muscle stud STR8cam Jeff, its viscosity and slipperiness lasts a long time and never gets sticky or leaves any residue while letting you feel the natural sensation of skin-to-skin contact.
Believe it or not, STR8cam lube is not messy and a little goes a long way, the texture is unlike any other lube on the gay sex toys market. Use the pump to distribute a 'whitish semen-ish gel' that really does look and feel just like cum. The packaging features an illustration of STR8cam Jeff in skimpy underwear.
STR8cam Lube is safe to use with your gay sex toys and I personally recommend using STR8 cam lube with your Fleshjack. Plus, because it's water based so safe to use with condoms. (See STR8cam Jeff blow playing with his Fleshjack and STR8cam Lube).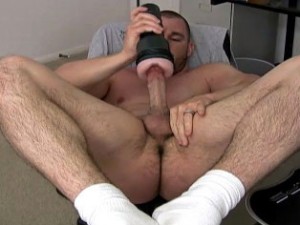 I decided to go solo for the test, I took my STR8cam lube home, put on some gay porn, I pumped some of the lube on my penis, and it felt great. To be honest because it's a water based lube I didn't expect it to perform as good as Swiss Navy Masturbation Cream or Boy Butter but my dick was happy and it felt great in my lubed up hand. So it passed the initial, but important J/O test.
I took it one step further and then tried it with one of my Fleshjack and I immediately needed more. After applying a generous amount of STR8cam lube to my eager cock and the entry to my Fleshjack, and the lube lasted to my final furious explosion. Being a water based lube, clean up was real easy.
Available in two sizes:
2oz handy pocket size lube – get yours here.
8oz pump bottle – get yours here.
p.s. just in case you were wondering, it doesn't taste like cum. Well, I couldn't resist but take my word for it – I tried it so you don't have to.