The summer is in full swing, and we are loving every minute of it. We have never seen the people in the office so knackered. God knows what everybody is getting up to, LOL! With so many parties, prides, and festivals it is no wonder our party stamina is getting tested. Especially, because we have not been able to do this for a few years.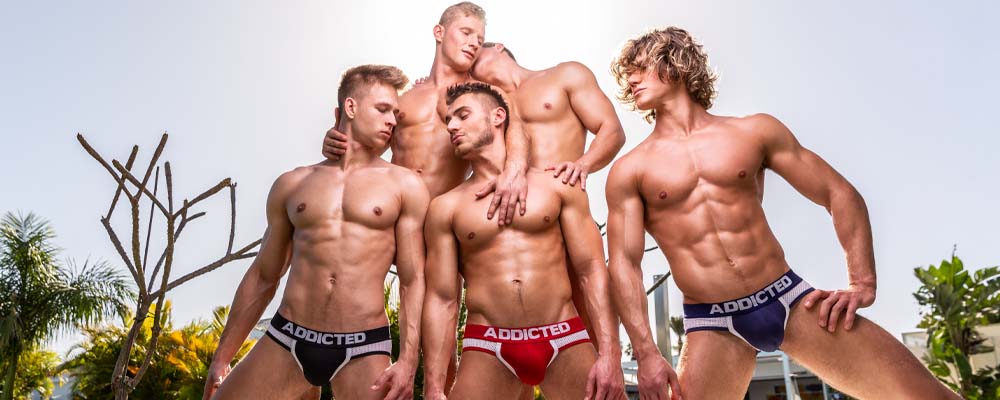 Get them assets showing!
Being out and about more also increases the chance that you might meet someone and hook up. In this circumstance and in the pre-planned hook ups you want to make sure you've got some sexy underwear on. Nothing worse than being faced with a pair of old undies, at least I find it rather unpleasant. Having said that I am sure there are people out there for whom old underwear is a big turn on. It just goes to show that we all have our own kinks.
Popular so far this summer.
The summer is far from over, or at least that is what we hope, but we can already see some trends in what is popular now. Most years Addicted Underwear is by far the best-selling range but there is competition out there at the moment. C-in2 and Pump Underwear have stepped up their games and we see their products doing very well. New to our store is Sukrew and customers seem to love them. Especially the V thong and the crotchless underwear, dirty boys!
It is not only underwear that is popular during the summer. The hot weather brings out the horn. At least for some of us. I am not sure if this is because there is more flesh on show or if the sun on our body does something to us. Either way our sex essentials are very much in demand. In particular our massive lube range and erection pills are hugely popular. In addition to the obvious essentials, we are seeing a shift to more kink related products. The travel sling, BDSM, fetish and fisting items are also getting a lot of love. Check out the sex sheets to cover the bed/sofa, we reckon this is a great buy to protect your furniture and play without caution.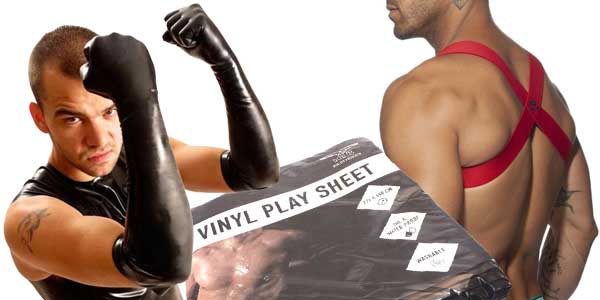 Get Kinky!
As mentioned above we are seeing a trend towards kinky gear, especially in the 20-40 age group. Wearing a harness is becoming more mainstream and no longer "limited" to adult clubs and fetish events. Harnesses are also available in more than just leather and designed for more casual type wearing. Other developments towards a kinkier attitude are that mens enhancing underwear are some of the most popular styles in the store, both bottomless and bigger bulge styles. Great for easy access but it also looks super sexy in the way these designs lift and support the male assets. In terms of brands, we are finding the Breedwell, AD Fetish and Darkroom collections seem to speak to the imagination of many of our customers.
The time is now!
With a lot of the summer still ahead we recommend that you come and have a look around at www.esmale.com as the big sale is on and all our products are reduced up to 40%. This does not only apply to our underwear and fetish gear but also our toys and all other products.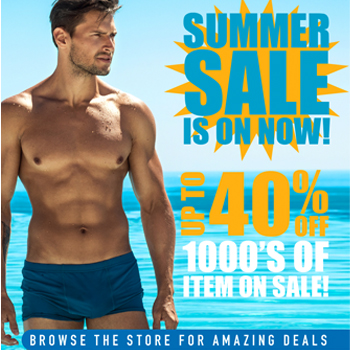 The sale extends to all the big brands and even new products in the store. We want to provide you with the best prices for amazing products. We pride ourselves to delivering pleasure right to your doorstep. In addition to all the big discount you can use code ONEOFF10 for an extra 10% off the already reduced prices. So, whether you buy a bottle of Spunk lube, underwear, toys, or a vegan jockstrap, now is the time.
Enjoy the rest of summer. Be you, be kind, be careful and most of all have fun?
With love,
Team esmale