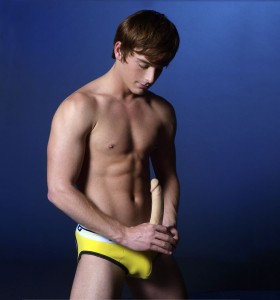 Brent Corrigan is a handsome guy to say the least! I first saw him years ago when he was modelling for porn studio Falcon and then Rascal.
The Brent Corrigan Dildo is also currently on sale at esmale, so there is no better time to try out a first date with this handsome fellow. Moulded directly from the porn star this dildo has an insertable length of 7 inches, but the suction cup and wee testicles gives him an overall length of 8.75 inches.
Because it contains no latex this dildo is perfectly safe for whatever you want to do with him. The circumference at the base of the shaft is a fulfilling 5.5 inches, which makes him great for beginners who aren't sure how much they really want to take – a good one to consider for anyone wanting to explore anal play
This is a fantastic toy. When it arrived I couldn't believe the size and the look. It is a perfect replica of his beautiful cock. This is the closest I'll ever get to Brent Corrigan balls deep inside me!
Top tip: Simply apply a generous dollop of lube and slide it in.
Get your Brent Corrigan dildo at esmale.
Team esmale
essentially for men