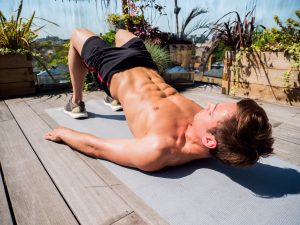 Olympic bronze medalist and double world champion diver Thomas Daley is no stranger to getting his kit off – his day job even requires him wearing a speedo! Tom has taken to YouTube and is posting workout videos in how to look good with no equipment required.
The latest video, entitled Six Minute Butt Workout! aims to "get you on the way to having the beach bum you've always wanted". It wasn't the butt that garnered the most attention: "butt?? haha I just see your front Package hahah" stated one admirer,"This is better than porn" said another, with many others replied using the 

 emoji!
The aubergine emoji is not the only fruit used in conjunction with Tom, Instagram followers got a treat several years ago when his female friend Sophie Lee posted his butt on Instagram (arguably proving that the six minute butt workout does indeed work!).