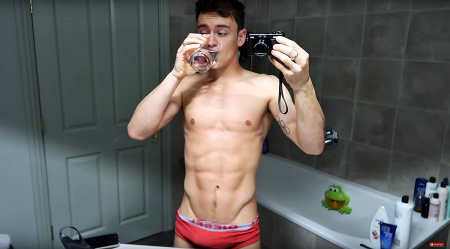 Regular Esmale favourite Tom Daley often gives us something to ogle at each time he steps into a pair of skimpy speedos. His YouTube videos are hit and miss with the Butt Workout from last year being a huge hit, Tom has outdone himself with his new video entitled Stripping off for Samurai!
The middle bit is something about Japan (joking aside, it's actually fairly interesting!) but the beginning sees him prepare for the trip (including the hot bulging Diesel boxer brief pics screen grabbed by fmforums) and the end sees him naked in an outdoor bath (unfortunately the peach emoji covers the back and we never see the front, so no aubergine emoji). Video added below…
Check out our top 10 Tom Daley pictures here.
---
Follow Esmale on Instagram @esmale_adult_store which is jam packed with fit guys daily!
This blogpost was brought to you by Esmale, the leading online gay shop.
Remember to use the exclusive promo code BLOG10 at checkout for 10% off your order!