The ball stretcher was an essential fashion item at this years London Fetish week. Growing in popularity I lost count of the number of guys I saw adorning the a ball stretcher.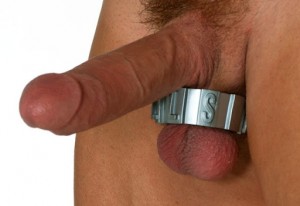 The Oxballs range was particularly at large! Available in a whole host of colours, I saw plenty of low hanging knackers weighed down by a ball stretcher.
For those of you unfamiliar with this male sex toy a ball stretcher is fastened around the testicles in order to elongate the scrotum and provide a feeling of weight pulling the testicles away from your penis.
Leather ball stretchers are most common, whilst the Oxballs range is made of super stretchy TPR rubber and varies in length. For those of you feeling more adventurous why not try the stacker ball stretcher. The Oxballs Stacker is just for those out there who love to see how low they can get their ball sack. Stack em up for added stretch (each Stacker will stretch your sack by one inch).
Some men enjoy the feeling of being 'dominated, and being made to wear a ball stretcher provides the feeling that the 'dominated' sexual organs belong to his master.
Benefits of ball stretchers:
Makes your erection look bigger.
Improving sexual arousal.
Preventing the testicles from lifting up.
Preventing the testicles from rising delays ejaculation.
View the full ball stretcher range at esmale
Team esmale.
essentially for men