Inspire your sex life with esmale, the UK's best male sex toys online superstore. Since the success of Fifty Shades of Gray, we have seen a huge rise in the sales of fetish and restraint sex toys, including bondage, paddles, masks and hoods, jock straps. It seems you have all caught the 'kink bug' and have finally realised how male sex toys can lead to a more deeply fulfilling sex life.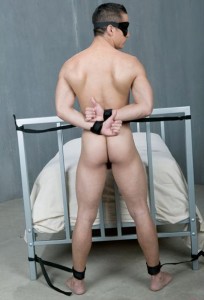 With Fifty Shades of Gray creating a sensation in erotic books, guys are exploring their fantasies with cock rings, beginners bondage kits, nipple sucker and vibrators, recreating some of erotic literature's steamiest scenes!
We've taken the latest phenomenon one step further and come up with Fifty Shades of Gay (well 10 of this weeks best selling fetish & restraint toys giving you a semi).
20 Foot Bondage Rope Black is a super-stretchy Silicone Fantasy rope; you don't have to be an expert to enjoy the pleasure of bondage rope play.
The Manbound Bondage Starter Kit is the perfect accessory for entering the new world of fantasy play and BDSM.
Fetish Fantasy Anodized Cuffs Black are perfect for beginners and strong enough for any level of user.
Oxballs Nip-Pull Nipple Sucker! If the thought of bigger, more sensitive nipples, gives you a semi, grab the latest nipple enhancers from Oxballs.
The 12-inch Manbound leather Slut impression-spanking paddle is real treat for guys looking to add a little kink in the bedroom.
If you like to use urethral sounds then these 2 are a great buy. A must have for powerful cock play.
A jockstrap made of leather looks hot and creates an arousing feeling, just by wearing it.
Your ordinary doorway instantly becomes an entrance to a brand spanking new world of hot, raw and unbridled ecstasy with this great new Sex Sling from Manbound.
With the Master`s Restraint Kit Now you can go to work or away on a long vacation with the pleasure of knowing he's not going anywhere!
The Fetish Fantasy Spandex Full-Face Hood is an extremely comfortable full-face hood impairing vision and awakening other senses.
Check out the full range of male sex toys at esmale.
Team esmale
Essentially for men