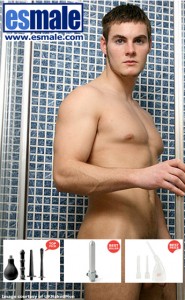 Today, more and more people are trying anal sex. It seems we are becoming more open to experimentation and more open to talk about the do's and do-NOT's
Anal sex still carries a taboo whilst some still worry about experiencing pain. But patience and preparation is key, follow this blog and your first time can be immensely fulfilling taking your sex life to a whole new level.
So here's how to do it the esmale way…
First up! Ensure your anus is clean. Have a relaxing bath or shower before sex and thoroughly clean the area. We recommend using an anal douche or enema to guarantee squeaky-clean cleanliness.
An anal douche works by flushing water through the anus, leaving it clean. At esmale we have a great anal douche range. They are available in lots of different shapes and sizes so there is something for everyone.
Apply plenty of lube?
Don't even think about attempting any form of anal activity without using some form of lube. The male sex toys market is jam-packed with a whole host of great lubes specially designed for anal sex and anal toys.
We recommend Maximus Anal Lubricant; from the makers of Liquid Silk this water based lube makes anal sex comfortable and painless and is compatible for use with condoms and male sex toys.
Practice makes perfect

Regular dildos are fine for anal play but they may be a little advanced for beginners. A gay dildo is ergonomically shaped to stimulate the prostate gland in men and feature a smooth tapered head, with lube a gay dildo is super slippery and makes for easy insertion.
We recommend the clear anal starter gay dildo. This fantastic anal toy is the perfect size for beginners and those who do not like it too big. It delivers great anal sensations and this realistically shaped gay dildo will slide in with relative ease and the textured shaft simply feels amazing.
View the full anal douche range at esmale.