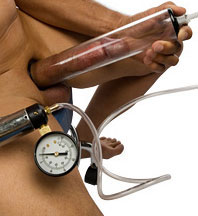 A penis pump is not the most attractive looking male sex toy and just thinking about using one can bring a tear to one's eyes! But the truth is that using a penis pump will not only give you a bigger, fatter penis but also deliver intense personal gratification in the same way receiving a blowjob can. No wonder it is often employed in the bedroom during foreplay before sex.
If you have ever thought about using a penis pump take a look at our step-by-step guide on how to get the most out of your pump.
Step 1
It's best to start with an erection! Get yourself off
Step 2
Don't forget your lube! Apply a generous amount of lube to the seal at the opening of the pump and to your erect penis. Using lube will ensure you can slide inside the pump comfortably and create a watertight seal.
Step 3
This is where the fun starts; now insert the shaft of your penis into the pump until the base of the pump is pressed firmly against your body so it is airtight.
Top tip: Some guys prefer to trim or shave their pubic region to ensure the cylinder is secure and tight against their skin.
Step 4
Place your finger over the air release or set the pump to only allow air into the cylinder. Depending on the model the method may vary; check the instruction manual for guidance.
Step 5
Get penis pumping! It's important to start slowly and releasing the pump gradually, this will give your penis to adjust to the taking time to get used to the pressure.
We recommend you use the penis pump for no longer than 20 minutes at a time to avoid damage to the blood vessels in your penis but it's perfectly fine to use the pump often, with gaps between sessions.
Step 6
You will notice that your penis will soon look and feel harder and stronger.
Step 7
Remember to stop and check your penis. Stop immediately if you notice any unusual discolouration or bulging veins.
Step 8
Once you're at a good length or feel that you are at full pressure, stop and slowly allow the air out and your pumped-up penis to slip freely from the penis pump.
See the full penis pump range at esmale
Team esmale
essentially for men