In the heat of the moment I'm sure some of you have tried to put strange things up your bottom in pursuit of a cheap thrill. Surveys show that the shower head is one of the most popular household objects that have been put to mischief (along with electric toothbrushes, cucumbers and even a deodorant can) so it comes as no surprise to me that our bestselling anal douche is the Colt Colt Shower Shot Spraying Water Douche. Top gay porn studio Colt have come up with an anal douche in the shape of an anal dildo guaranteed to make sex in the shower that little bit more exciting!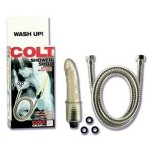 This male sex toy is the most fun you can have in the shower on your own (or even with a partner). The Colt Shower Shot easily installs on most standard showers for an incredible burst of water pleasure through the 6.5-inch jelly dong. A douche and dildo in one that cleans, satisfies and makes getting clean feel so dirty.
The 6. 5-inch shaft of this sub-aquatic gay dildo is punctured with holes, allowing the full force of your power shower to blast its way through the shaft in every direction up your bum. For fans of the anal douche, the Pleasure Fountain Shower Attachment Dildo takes all of the hard work out of the process and turns it into hard erect penis.
If you want a thorough clean before play, then using this douche dildo allows you to clean up as part of foreplay as well as preparing you for penetration. Click here to view the great anal douche range available at esmale.
Team esmale
essentiallymale