Recently we have being interviewing people that have made a difference within the LGTBQI community. Whether it is by supplying lifestyle products, getting people together or in this case setting up a platform where one can find comprehensive content relating to all matters LGBT within the region. Canal Street online aims to provide definitive listings of activity in and around the Gay Village, Manchester and the wider NW region without prejudice or opinion. We talk to founder and owner Iain Scott and this is what he had to say.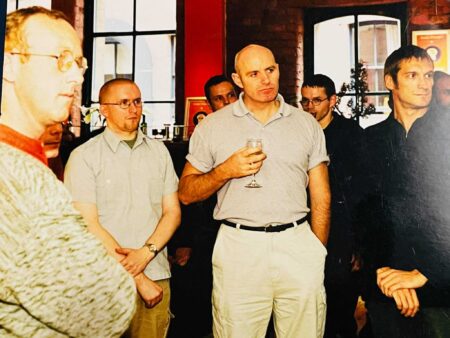 When did you start Canal Street Manchester and what was your motivation?
Before I set up Canal St Media, no 'umbrella' one stop shop source existed bringing together matters relating to all aspects of our community and it seemed like the natural thing to do at the time. 2007 was the date for the start of the site and all social media followed as and when they were launched. Tik Tok is our latest page to launch and we feel sure more will follow.
How would you describe "the essence" of Canal Street Manchester?
It is a hub for all things LGBTQ. Encompassing as much equality and diversity as possible.The Gay Village is a place where those who may feel isolated elsewhere, can come together with those like them in a generally safe and secure space.
What did you do before you started Canal Street Manchester?
Initially, I was involved in the world of Advertising, principally ad sales, but also PR and Marketing.
What do you like and dislike about running Canal Street Manchester?
I thoroughly enjoy being able to share as much relevant content as possible, especially when it involves smaller groups and independent businesses.We also share missing persons and other pleas as and when they crop up. Having to try and please so many village based businesses is always challenging and then there is the issue of trolls. It can be a constant juggle.
What does a typical work day look like for you?
There really is no such thing as each day is a combination of flowing information via the socials, reading and dealing with dozens of emails every day,telephone enquiries and face to face meetings with clients and potential customers.The Canal St Card admin and promotion, is a part time job in itself.Fortunately, all my meetings take place in bars, restaurants and hotels, so how bad can that be?
If you could have any other job, what would it be?
Never really considered that, as I have created the one I have and health permitting, I will be continuing for a wee while yet.
Professionally speaking what do you see as the biggest challenge?
Trying to keep up to date with the frequent evolution of social media platforms. Not being technical, I find that it is so specialised and demanding. Thankfully, I have talented collaborators around me.
If you could be someone else just for one day, who would it be and why?
Again, I have never really thought about that. I guess it would be interesting to view the world from the perspective of a Judi Dench or Joanna Lumley maybe? They both seem to have so much going on constantly.
Who would you say has had the biggest influence on your life?
Undoubtedly, my late parents as well as my omni present life partner Tom. We have been together for so long now. We have dealt with so many things head on together and so far thrived
What has been your favourite year/age to date?
I have found that each decade so far has bought its own opportunities and potential for enjoyment. I am hoping that this continues.
What music do you like to listen and who is your favourite artist/band?
I love all types of music from dance through to opera. Classical, country, jazz and folk. For me it is all about the quality of the performance and not just genre.
If you could send a message back to yourself when you were 16, what would that be?
Prepare yourself for a hell of a ride.
Visit Canal Street Online
With love team esmale, UK's leading gay sex shop!