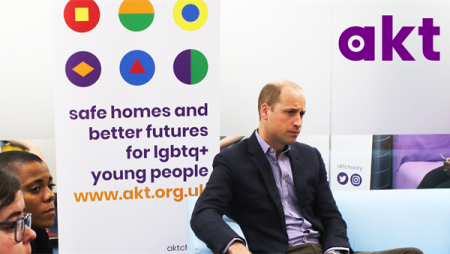 Research from the LGBTQ+ homelessness charity Albert Kennedy Trust (akt) reveals that three out of four homeless LGBTQ+ people are rejected by their family and almost half (45%) are from a faith (predominantly Muslim or Christian) background.
Akt was founded by foster carer Cath Hall in Manchester 30 years ago this year and have helped over 50,000 young people in this time. Hall has some inspiring words to tell young people who are struggling with their sexuality:
"Be proud of who you are and don't be afraid to tell somebody – but choose carefully the person that you tell."
One of the most significant chapters in the history of akt when the Duke Of Cambridge opened the company's new YouthSpace in Hoxton where he said he would "fully support" his children if they were gay.
If you wish to donate to akt go here, or to volunteer go here.
If you need help or advice:-
Akt can be reached at this webpage
Shelter can offer housing advice 0808 800 4444
Citizens Advice Bureau: 03444 111 444
Samaritans: 116 123
National LGBT Domestic Violence Helpline: 0300 999 5428 / 0800 999 5428
LGBT SwitchBoard: 0300 330 0630
---
Follow Esmale on Instagram @esmale_adult_store which is jam packed with fit guys daily!
This blogpost was brought to you by Esmale, the leading online gay shop.
Remember to use the exclusive promo code BLOG10 at checkout for 10% off your order!