It is early morning and I am having the hangover horn and all I want is cum (HARD) and play…….normally I just knock one out and snooze for a while but now I have found something that satisfies me even better!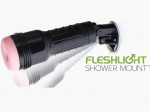 OMG……….so with my hangover horn I walk to the shower where the shower mount now is a permanent fixture, YES..I live alone 🙂
All I have to do is easily attach one of my Fleshjack or Flights on the shower mount and off I go. So now I am in my hot shower very slowly fucking my tight toy. I am steadily working myself to an orgasm that makes my neighbours wish for better soundproofing………….MEN………the Shower Mount is a keeper. Also suitable without a hangover :)))
esmale tip: you can control the suction of a Fleshjack with the cap at the end of the masturbator. I start by having the cap slightly loose and when I am close to shooting my load I screw the cap off the Fleshjack as tight as possible for super suction….yeah baby……BOOM!
NOTE: Product is not compatible with Blade, Sword and Sex in a Can products.
Big Squirt from team www.esmale.com, gay sex toys super store