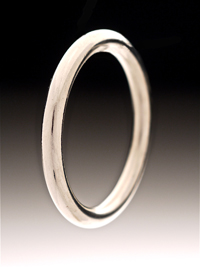 Looking to maintain a rock hard, steel shaft in prime polished condition? Check out the best range of metal cock rings.
We have all seen them and we know what they're for but we look over them they as they look so intimidating.
A metal cock ring works by restricting the blood flow out of your penis, it sits on the base of your cock across the arteries and ultimately your cock fills up with blood giving you a harder, stronger erection for longer.
This is a fantastic solution for men who suffer from premature ejaculation or impotence, or those of you simply looking to get the most out of your erection. Trust me, guys will notice you wearing this, your cock will be pulsating, veiny and engorged.
Wearing a metal cock ring adds weight to your swing, it will slow you down, which may be something you're looking for. You will have to thrust harder for longer to build up to orgasm, you may find that your orgasm is more intense.
Finding the right fit is of the utmost importance. Measure the shaft of your penis (when erect and soft) and choose a cock ring that will stay in place when soft, but that your still able to take off when erect.
We receive a lot of questions from guys who want to know 'how long can I wear my cock ring for?' We suggest you don't wear your cock ring for several hours, do not sleep with your cock ring on. And if your genitals start to feel cold, lose sensation or get significantly larger than usual, remove the ring immediately.
Measurements:
Small – 1.5 inches/39mm diameter.
Medium – 1.75 inches /45mm diameter,
Large – 2″ inches /50mm diameter
Check out the full range of metal cock rings at esmale.
Team esmale
essentially for men