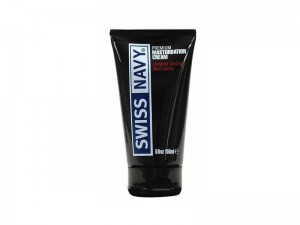 If you're bored of the usual five knuckle shuffle or just looking to spice up your masturbation techniques. Well it comes in the form of Swiss Navy Masturbation cream.
Back by popular demand, take your masturbation cream and apply a generous amount of lubricant all over your penis.
Here's a little tip courtesy of one of our customers, first up grip the top of the penis with the left hand and place the right hand under your testicles (fingers need to be pointing towards anus). Next, slide your left hand down and your right hand up. Your hands should meet somewhere around the base of the penis. The second stroke goes in reverses.
Talking from experience doing this regularly and steadily will provide a mind-blowing orgasm.
Back in stock get your Swiss Navy Masturbation Cream at esmale.
Don't forget to let us know how you get on!
Team esmale
Essentially for men