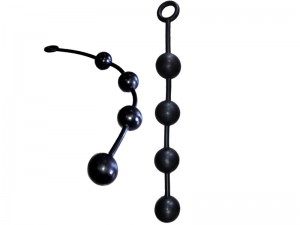 Tired of your anal beads? Well, if you think of yourself as a bit of an expert when it comes to anal toys the guys at esmale have heard your horny cries and have come out with a new line of anal beads and balls… in the form of rubber balls available in a range of sizes but be warned, the biggest balls are not for beginners!
We received a rave review about our new range of toys and I thought you would appreciate reading it too.
"I believe it takes an anal professional to have survived a night where all four anal balls measuring 60mm in diameter plugged my hole.
Available in 4 different sizes from a smaller 30mm to a hefty 60mm in diameter each toy creates a different sensation. I like my toys BIG and these anal beeds and inserted the 4 bulbous balls slowly for a full ass pounding, prostate stimulating ride – when this baby went in, I thought, damn, this is stretching my ass and it was more than fulfilling!
Results: Each ball delivered intense sensations and hit my prostate like the persistent clanging of the bells at Westminster abbey. I especially enjoyed the bulbous ones since one feels their journey with each pop and left my ass feeling more than satisfied. These anal beads are well-made and effective. Actually I think they are great anal toys – for the experienced guys. Anal virgins or tight-sphinctered amateurs are best to avoid them and begin with something abit smaller!
Score 5/5."
Check out the full range of anal beads and balls available at esmale.com
Team esmale
Essentially for men
Team esmale!
Essentially for men