A butt plug is designed for anal arousal, and using a butt plug as part of your anal fun can lead to intense and super orgasms.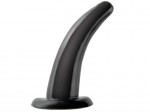 A butt plug is a conical shaped anal sex toy that starts small but gently graduates in size. They usually feature a slimmer section at the bottom and a flared base for safety.
Take a look at the new BASIX P-Spot Butt Plug 5 Inch anal probe now available at esmale, This butt plug is specially designed for anal play, the boys at Pipedream have put a new spin on a classic favourite. This butt plug is perfect for beginners and those looking to explore the pleasures of anal sex. The butt plug is ergonomically designed and features a slight curve guaranteed to hit the prostate, whilst gently stretching the anus and stimulating the sensitive nerve endings in and around the anus.
It's a fabulous way to initially explore the boundaries of anal sex, either through solo masturbation or as part of anal stimulation with a partner. Either way, butt plugs are essential part of your male sex toys collection and should be your first choice of toy if you're new to anal play.
Whatever you do, don't attempt to put anything up your bum without a generous helping of lube! We recommend you invest in an anal lube such as Maximus.
View the great butt plug range available at esmale.
Team esmale
essentially male