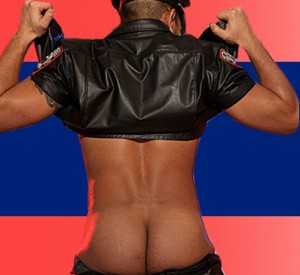 Polish your knob vigorously with a generous amount of ID Him – The Sexiest Smelling Lubricant Around! This heavy duty masturbation cream has a super slick texture that glides on easily and lasts for a masturbation-thon.
You may not think that the scent of your lube is not important in the grand scheme of things but ID Lube have a male masturbation cream that carries a strong leather scent for added scent-sual seduction. Chatting to the guys, leather is one of the top 3 scents that they find sexiest, and if you agree this lubricant is a must!
I'm a habitual masturbator, my technique depends on my mood and schedule.
Wake me up and Go-Go wank – Dry and fast.
Lube it up, but I have to get to work wank – I use a water based lube such as Liquid Silk or Swiss Navy water based lube. They are super easy to clean up!
Horny as hell wank – This is when I play my favourite gay porn film and I pull out the oil-based lube for a long, greasy JO session. I keep my leather scented ID Him Cream for special occasions and I recommend you do the same – when you have the time to appreciate its amazing abilities.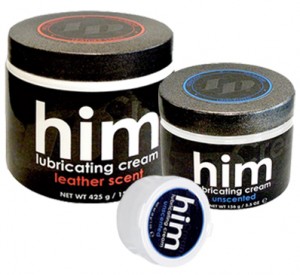 You get the jest, I've tried a lot of lube in my time, but I don't think I've ever enjoyed a product as much as I enjoyed ID him cream. The thick, rich white cream comes in a classy container that doesn't look out of place next to your hair care product. Just unscrew the top, peel off the foil protective sleeve, and you're ready to roll.
I opened it and scooped out a generous dollop and set to work massaging my cock. As you start to work it in it quickly softens to become one of the longest lasting lube sheaths I've ever experienced. It was the perfect consistency, never lost its slip and worked like a dream.
Don't forget that as an oil/silicone based lube it is not safe to use with condoms. This lube is strictly for masturbation and the boys looking for some heavy duty fisting and fingering.
ID Him, the oil based masturbation cream with a difference, is ideal for male solo play as it's thick, long-lasting and packed with smooth sensations. But ID Him is also made to be shared. It has a warm leather scent to it which is a real turn-on!
Discreetly packaged and available in three sizes, ID Him guarantees that masturbation will never be the same again.
Team esmale
essentiallymale