30% OFF Oxballs Hemi 'ass-lock' butt plug and cock ring – Offer ends: 18/01/2012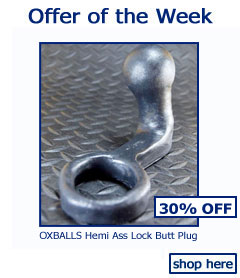 The Oxballs Hemi Ass-Lock is the ultimate gay sex toy – A butt plug and cock ring in one! It's not just 'bottoms' who love the odd finger or two slipped in during foreplay or sex! Those horny boys at Oxballs have combined a classic bulbous butt plug design attached to an impressive cock ring making this the perfect tool for those guys who can't get enough cock and ball play and extreme anal-play.
The Oxballs Hemi Ass-lock is a super stretchy butt plug that offers simultaneous stimulation of your P-spot, anus and perineum as well as helping to maintain a bigger, thicker erection for longer. Every move can be felt through the butt plug, heightening every sexual experience.
It's simple to use, apply a small amount of water based lube to your penis and testicles and insert them into the stretchy 1.89 inch diameter cock ring before slipping the textured butt plug into place for a fit that hits all of your best spots.
The curvy butt plug features a smooth 50mm anal plug smooth bulb that's sure to tease, tantalise and satisfy your prostate fantasies. The full girth of 4.75 inches feels gorgeously fulfilling.
In a sexy black tar colour the Oxballs Hemi Cock Ring with Anal Lock is visually, as well as physically, alluring. A central strip measuring 3.5 inches joins the cock ring and the butt plug together. A raised Oxballs logo creates an adept perineum stimulator to further enhance your enjoyment. To experiment with new sensations, heat or cool before use.
The best thing about the Oxballs Hemi is that wearing a single unit means that movement is translated from the externally worn cock ring to internally worn butt plug. Every thrust, pull, tug, yank and grind of your penis is felt through to the butt plug for simultaneous stimulation.
We recommend you use with plenty of water based lube for easy insertion and enhanced sensations.
Team esmale
Team esmale essentially for men!