Let's talk about cocks, or more specifically the esmale gay dildo range. I finally got my hands on a variety of gay dildos and thought this was the perfect opportunity to insert cocks to "test" their effectiveness for 'your' ass plugging pleasure. (The lengths we go to for your reading pleasure).
Saying that, I was particularly excited about testing the gay porn star Johnny Hazzard and Steven Daigle dildo from Rascal. If like me you're familiar with these porn stars. The two dildos are quite different Steven Daigle is smaller (7. 5"), a little less thick and equipped with a cute set of balls while Johnny Hazzard (8.5") big dildo looked a little overwhelming, like it was going to hurt (but in a good way).
Looking for straight forward sexual gratification? Look no further than a gay dildo. Check out the huge range of gay dildos in stock at esmale. Available in many different colours, shapes and sizes, our range of gay dildos are designed to provide pure penetrative pleasure unlike anything else. See the full range of gay dildos available at esmale here.
Gay dildos are specifically designed for anal use and there are some important differences between them and other dildos on the market. Gay dildos are often slimmer in girth and are designed to stimulate the nerve endings in a man's anus and hit the all important prostate gland and create knee trembling orgasms.
Beginners Gay Dildo
If you're just starting out I recommend you start with the clear anal starter gay dildo. This gay dildo is just 6-inches in length and a slim 1-inch in diameter (£11.99). This is ideal for beginners and those who are working their way up to something bigger. The realistically shaped head of the gay dildo is angled so it slips in with ease and the textured shaft feels simply fabulous.
Double Ended Dildos
This gay sex toy is the gay dildo with two ends, designed for sharing this gay toy is great for guys who want a little (or a lot) extra length. You can twist and bend double ended gay dildos anyway you or your man wants. The Doc Johnson Veined Double Header Gay Dildo features veins for greater sensations. Check it out here.
Inflatable Dildos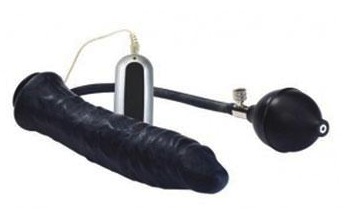 The supreme nature 7-inch gay dildo Vibrates and inflates! Made of flexible latex and rubber, use the hand pump to push air in to inflate the dildo and create a gay dildo which is huge in both length and girth. See the full range of inflatable gay dildos at esmale.
Clear Jelly Dildo
Our range of clear jelly gay dildos with Suction Cup are extremely popular because they look are shaped like a real penis and feel just like the real thing. Available in arrange of different shapes and sizes (just like a man's penis). These gay dildos are great for beginners, easy to handle, easy to use and are shaped to fit perfectly.
Team esmale
Team esmale essentially for men!