Anal Stretching – Start small and end big!
We offer an extensive range of butt plugs
At esmale.com we bring you a range of butt plugs, douches and lubes that guaranteed that you have the most fun with your bum. Our great range of butt plugs come in all shapes and sizes – and one is never enough.
What is it?
Much like a dildo, a butt plug is an anal sex toy that is inserted in to the man's anus and rectum for sexual pleasure. Butt plugs are smaller than dildos and feature a flared base that stops the toy from getting lost inside the rectum.
What does a butt plug do?
Butt plugs are a great way to explore your boundaries when it comes to anal sex, and as part of your sexual range can result in strong anal satisfaction not to mention mind-blowing orgasms.
Anal stretching
They are often conical shaped that starts small at the tip but gently increases in size. They sometimes feature a slimmer section towards the bottom and feature a flared base for safety. A butt plug gently stretches the anus and stimulates the sensitive nerve endings that exist both internally and externally around the anus.
Choosing the right butt plug
The sphincter muscles located in your anus deliberately contract and release when you begin to push something against them, so if you're new to butt plugs we recommend you start off with something smaller, designed to relax your anal muscles and get your body familiar with anal toys.
Colt Anal Trainer Kit
We recommend The Colt Anal Trainer Kit. This butt plug kit is ideal and comes with three butt plugs, each one an incrementally bigger. Beginners can start at the smallest specimen and work their way up. These plugs are firm, pliable and tapered, making them ideal for easy insertion.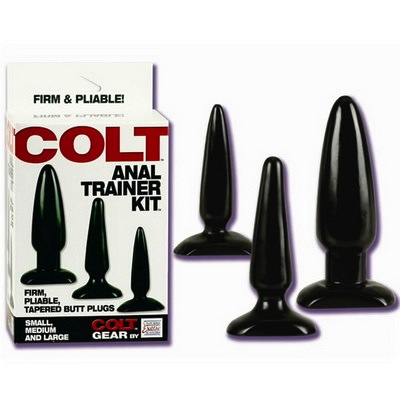 Ready to progress?
When you feel like you're ready to move up, try a slightly larger or vibrating butt plug. Why not try a vibrating one? Like the Colt Knocker Vibrating Butt Plug. Designed for the less experienced anal players. This fantastic toy vibrates when you twist its base giving you different modes of anal stimulating and vibration.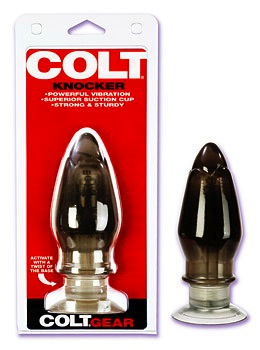 How to use a butt plug
First thing first, lubricate your butt plug and your anus. A specialist anal lube such as Pjur Anal Lubricant will provide the right amount of slipperiness needed for insertion.
Now position yourself
Try one of these for size:
Bent over on all fours (aka doggy).
On you're back with a cushion under your bottom.
Squatting over the butt plug on your knees.
You will soon discover which one is right for you or you may wish to experiment to see if any variation of these positions works best.
Hold the tip at the opening of the anus, angled slightly towards your stomach, and gently push and massage the anus until you feel the very tip of the butt plug enter you. Once you feel comfortable, push a little more of the plug in, moving your hand off the shaft and use the base of the butt plug to steer the plug in.
Once you have inserted the butt plug your hands free
Now you can enjoy using your hands for masturbatory stimulation or intercourse. Also, try grinding against it for more intense sensations!
How long can I leave the plug in for?
You can leave the butt plug in from anything up to 30 minutes or continue to wear it all day. We do however recommend that you take it out at least every hour and apply more lubricant to avoid any discomfort when moving around.
www.esmale.com will have the biggest selection of quality butt plugs and other sex toys perfect for anal stretching. Please e-mail and queries to info@esmale.com or if you have any suggestions or recommendations, please let us know.