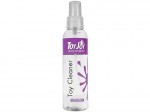 Keeping your sex toys clean is really important here at esmale! A specially formulated cleaner is a compulsory tool in any sex toys tool box and using it after each use will ensure your toys are kept in 'tick-tock' condition and will last forever.
Whether it's a fleshjack or realistic dildo simply wash your toys in warm water, using a little Sex Toy Cleaner on any bumps or ridges to guarantee complete cleanliness, then dry with a clean tissue or soft cloth.
Ensure you get into every lump and bump to prevent bacteria building up. The best way to do this is by rinsing it under hot water, spraying it with anal sex toy cleaner, rubbing it gently, repeat this process and repeat again.
Top 5 tips to help make your sex toys last a lifetime:
1. Slip a new condom over your dildo each time you use it.
2. Use a sex toy cleaner.
3. Keep your rubber sex toys separately.
4. Keep away from direct sunlight.
See the full range of sex toy cleaners available at esmale.com
Team esmale
Essentially male