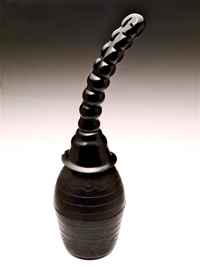 The idea of an anal douche or enema kit can make some people feel a little bit squeamish! But embarrassment aside they are an essential item for guys into anal toys and anal sex.
An anal douche is a simple device that cleans the anus flushing out any faeces, ensuring that it's as clean and hygienic as possible. After douching you can concentrate on the task at hand and relax in the knowledge you are clean.
Speaking to #teambottom gay guys into anal sex have their douche kit or two lying around for those special times. At esmale we stock a wide anal douche range. Most of which combines cleansing with pleasure.
We recommend the Fist Big Black Bulb Anal Douche this anal douche features a detachable pleasure tip with 8 ribs for extra sensations! The adjustable tip lets you control the amount of liquid dispensed.
Whether you are new to anal play or a veteran! Anal douches and enemas come in different sizes and shapes to suit all levels of experience and are incredibly simple to use, even the first time.
Top tip: New? It's best to start with an anal douche and work your way up to something bigger. A small anal douche such as the travel douche is easier to control both in terms of volume and speed.
View the full anal douche range available at esmale
Team esmale!
Essentially for men