If your man has a small penis and commonly refers to your arse as 'waving your index finger in the Royal Albert Hall' the esmale cock sheath (AKA penis sheath, penis extender) range will help to even up the difference.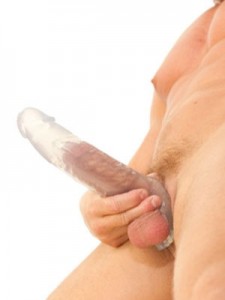 But whether your guy genuinely has a small penis or whether it's average but you want it to feel a bit bigger inside you, a penis sheath adds extra inches and girth to your mans penis! He can penetrate you deeper and you can feel a lot more sensation. Choose a size to suite you and you'll be able to grip your man's penis, making him feel snug inside you.
Top tip: Lie on your back in the missionary position with both your legs over his shoulders. This is still by far the simplest and easiest move to use if you need to feel a bit more girth and length between your legs.
Lying on your back with a pillow underneath your bottom during sex can make him feel bigger. If he then puts his legs either side of yours, so that your legs are practically closed while he's inside you can make you seem tighter.
A thick, veiny penis extender sleeve with a few extra inches and solid tip is guaranteed to give you extra length where you need it most. Check out the full penis sheath extender range at esmale.
Team esmale
Essentially For Men