Here at esmale HQ, not only are we committed to providing you with product reviews on the great male sex toys we will soon be selling via our new and exciting on-line store but we also want to share with you some of our knowledge and experience in the market to make your purchasing decisions that little bit easier.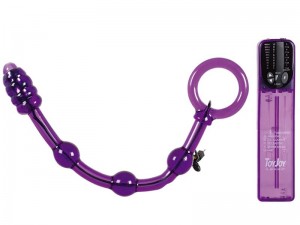 We have already produced a number of blogs on the subject and fun you can have with Anal Beads.
For those of you out there who want a little extra from their anal toys and anal beads, then this might just be the perfect thing to add to your gay sex toys collection.
The Flexible anal beads in this amazing rod, bend nicely and flex to hit every right spot when you get them inside you. Added to that, you also get the added bonus of a seven function vibrator at the touch of a button. Anal Beads fun just got a whole lot better!
The anal beads are made of silicone, so they are flexible enough to bend and twist in any direction. If you know what spot to hit, these anal beads will do the job! There are a number of beads along the shaft of the rod but the first is the biggest. Be careful with this when using for the first time. It may be handy to have some lube (Liquid Silk and Swiss Navy are our favourites) ready to help ease that big bead into you. Once it's inside, you'll have another three smaller anal beads to tease you and provide you with amazing sensations. The vibrating bullet in these anal beads is in the head, so you'll feel the vibrations deep inside you but the vibrations will travel the whole length of the anal beds rod. The seven different vibrations can be controlled at the flick of a switch and there's even a stop button if you get a little carried away! Who knew anal beads could be soo good!
We will be carrying a large range of anal beads products in our Anal Toys range and there will be further product review blogs featuring some of our favourites! So keep checking the blog site for further blogs on anal beads
We want to hear from you! Get in touch and let us know what your favourite Anal Toys are and which Anal Beads you like. Let us know what we should stock, or any experiences you've had with the product. If you have any suggestions or recommendations please e-mail us at info@esmale.com
Team esmale – essentially for men!