Here at esmale HQ, we just love a nice jockstrap, so we have selected some we thought you might like. They come with great images. I just love looking at a jockstrap and what it is holding………..
Jockstrap: Bike Athletic Supporter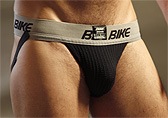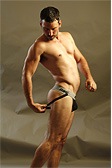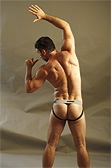 The ultimate athletic supporter is a super jockstrap, and is now even better. Bike has redesigned its classic jockstrap to provide you with even more support and comfort. How nice of them. Improving on the waistband design, the jockstrap now sports the Bike logo and is made of a softer fabric. The jockstrap is still totally rugged for sports but now comfortable enough to wear as regular underwear. Just the way we like them! The jockstrap in the images above is their wide waistband version of the famous Bike athletic supporter.
Andrew Christian Super Mesh Jock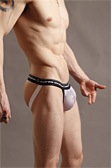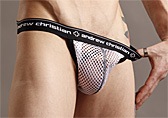 Andrew Christian takes their super jockstrap with Show-it technology, and adds a lovely change by making the pouch in a wide mesh. This is one sexy jockstrap. Applause for Andrew!
The leg openings of this jockstrap are trimmed, and in contrasting colours to create a great look. This masculine athletic mesh provides more than just a hint of sexy see-through. The jockstrap also has a slight sheen to catch the light, lovely. The super soft elastic leg straps and black waistband are custom woven with the brand name and cross running along the center. This jockstrap drys quickly so ideal for traveling or sweaty workouts.
The "Show-It" technology adds extra inner half-pouch of solid support fabric, not purely for roomy comfort, but also to lift your package to produce a more produced bulge effect. This jockstrap will make it look impressive.
Dirty Fukker Jockstrap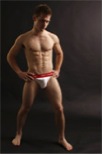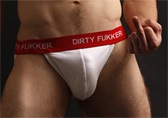 Jockstrap
This Jockstrap says it himself. The pouch may be really soft, but the brand name will let everyone know you mean business! This mostly cotton jockstrap has a touch of lycra for stretch. This ensures comfort and support. If you want to give a great impression, then wearing a jockstrap like this will get it for you.
At the esmale store we have many more jockstraps for you. We select the brands carefully so you are sure to buy good quality for a great price!
If you want more information and receive offers on a jockstrap like those featured above or on the many other products we sell, please sign up to our newsletter.
Team esmale, essentially for men