There are so many types of cock rings, a very popular variety amongst these are leather cock rings. Leather cock rings have a very different feel to them because of the leather construction. I used one that you can button on, which makes putting it on very easy. They are also adjustable in size and comfortable on the skin.
Leather cock rings are a little more difficult to clean and maintain and should not be used with multiple partner's as they cannot be sanitized. There is such a huge variety in leather cock rings and accessories that I am at a loss on what product to focus on….. *having a flashback* , oh no hold on….the Leather 3 Piece Divider Cock Strap. The flashback brought me back to a funny scenario where I had some problems putting it on, although that may have been due to having had a bit too much to drink. But I must say that after I had it on it felt so good, the leather feel of the product gave me a more masculine "king of the world" kinda feeling, making it a great night all together, and soon I had shagged out the excess alcohol in me!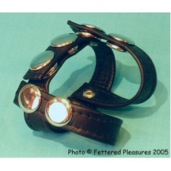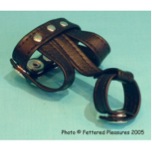 I was always of the opinion that leather cock rings were only for the more fetish side of adult pleasure, but that is not the case at all. Not that there is anything wrong with the fetish side, far from it! It is great. It was just an observation that I made which was incorrect.
When buying leather cock rings or straps I would certainly advise only buying high quality leather. You will soon find, that products with an inferior quality leather, will go hard, and they could become uncomfortable.
You will find the highest quality leather cock accessories at www.esmale.com soon. For now, please e-mail us on info@esmale.com or sign up for our newsletters, so we can keep you up to date with our latest products and other ranges from our up and coming web site!