The perfect summer combo!
This summer is the Summer of Pride Jubilee celebrating 50 years of Pride, so KU Bar – Addicted – ES Collection and ESMale have come together to support and supply the Gay community in making this summer one to remember.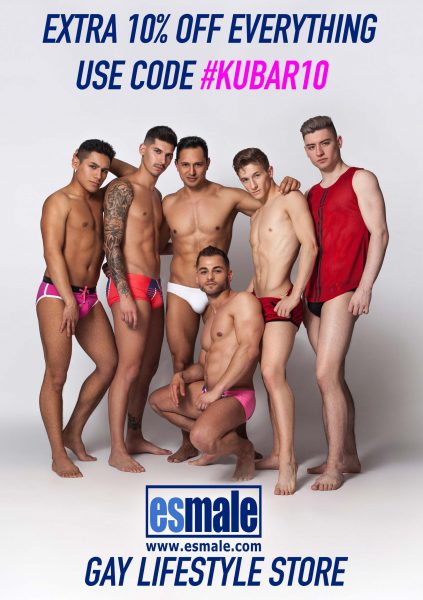 Between ESmale, KU BAR, ADDICTED and ES Collection you have everything a good summer needs.
Step 1. Firstly, we would suggest getting yourself looking hot, with the fabulous ranges from ADDICTED & ES Collection. From the hottest underwear and swimwear to a massive range of shorts, sports, casual and fetish wear. This year the collection is colourful, edgy and full of great surprises.
Step 2. After you have got your outfit sorted it is time to hit the bars and, when in London, what better place to do that, than the KU BAR. The KU BAR has been a pillar of gay London's social life for many years and with good reason. The locations are perfect, there are 3 in total, and the bar staff are super friendly. Team KU BAR are always planning events, whether it is Pride or England playing in the football, they always created the best atmosphere to enjoy it.
Step 3. This is the last and final step but certainly not least. After you have had yourself some good fun in your new outfit it is, hopefully, time to enjoy some other fun…..you know?….the naughty kind. This is where www.esmale.com comes in. In this Adult Store for Men you will find everything you need for some good adult play time. From essentials such as lubes and condoms to a massive range of various gay sex toys and fetish items, and don't leave the store without getting some sexy new underwear.
So, there you go. An excellent 3-way collaboration as far as we can tell. To top it all off you can also get an extra 10% off everything at esmale.com when you use code #KUBAR10 at the check-out, this code will be active for the whole summer!
Enjoy the Summer!
Love
Team esmale