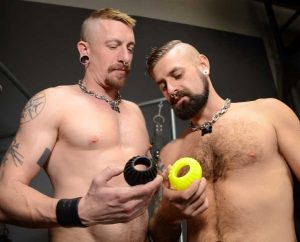 One of the questions we're asked at least once a week at Esmale, is how to correctly measure yourself for a cockring? There are many types of cockring that we sell, some are to be worn on just your cock, and others for both your cock and balls. Here is our guide to both:-
Tips for measuring your cock:-
You should always measure your cock when it's hard.
Either you or a partner should wrap a tape measure around the base of the shaft of your cock. This will get your penis's circumference.
If the cockring you want to purchase goes around both the cock and balls, then measure around both shaft and testicles (again, as close to the body as possible) to get the circumference.
If the cockring you want to buy has measurements in diameter (most do) then you need to use a calculator (a handy online one is here) and divide the circumference by 3.14 to get the diameter. For example, if your circumference is 5.5 inches, dividing this by 3.14 will get 1.75 inches.
If you need to convert inches to mm, then a handy online converter is here. The 1.75 inches above would then be 44.45 mm (or 4.44 cm).
Now you're ready to buy a cockring! If you are still left wondering what is the purpose of a cockring, they slow the flow of the blood from your cock so they keep you harder for longer! They're great for the bedroom, for clubbing, cruising and sex parties! They also draw attention to your cock and can be a great way to get what you want!
If you're still unsure about sizing, then most (non-metal) cockrings have some stretch to them. Read the description to find out which. Alternatively, two of the better selling products we have, and which are relatively low-priced, are some cockring multipacks.
CalExotics Tri-Rings 3 Piece Cock Ring Set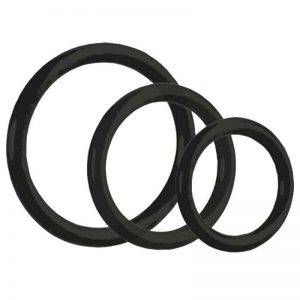 Both stretchy and comfortable, the CalExotics Tri-Rings 3 Piece Cock Ring Set is available for a great price and comes with three different sizes (1.25 inches, 1.5 inches and 1.75 inches – again, all are diameter). It also comes in four colours (Black, Blue, Red, White and even Glow in the Dark!) and makes a great buy. It's even more fun trying them on with a friend!
You can shop for our CalExotics cockring range here.
Revenge Metal Cock Ring 3 Ring Pack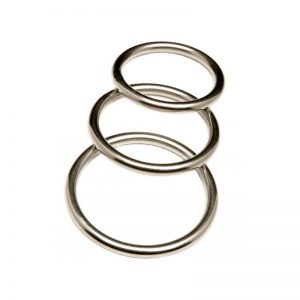 If you don't like the idea of a stretchy cockring and prefer the idea of metal, then the Revenge Metal Cock Ring 3 Ring Pack makes for a great starter! Made of body safe nickel-free stainless steel with no solder joint, these make for a great way of maintaining your erection! The sizes (40 mm, 45 mm and 50 mm – all diameter) should ensure that at least one fits, and they're priced at under a fiver!
You can buy the Revenge Metal cockring set here.
The lead picture is copyright Oxballs. The image below is of Gabriel Cross!
This blogpost was brought to you by Esmale, the leading online gay shop.
---
Remember to use the exclusive promo code BLOG10 at checkout for 10% off your order!