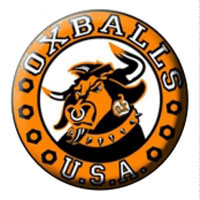 Do you find the majority of cock rings too tight or too small, the Oxballs range of cock rings are super stretchy and are designed to enhance your erection.
How does it work?
The bestselling Oxballs cock ring is made of stretchy materials to avoid a vice-like grip on your penis but still provide a comfortable and firm ring for a kinky look and stronger erection.
Sexy features:
Available in a range of colours including Black, Zinc, and blood red to mention a few, there's an Oxballs cock ring to suit most types of guys. The extra supple, flexible material means the ring fits snugly and gently around your penis without irritating his skin.
Top Tip:
If you're prone to premature ejaculation, simply keep your Oxballs cock ring to hand and put this on as soon as you're erect. This will help you keep going for that little bit longer.
If you've never used a cock ring because they've always looked too small, take a look at the Oxballs range this cock ring is really stretchy and overall highly recommended! If you've never tried one, give it a go.
View the full range of Oxballs gay sex toys available at esmale here.
Team esmale
essentially for men